March 2022 Clearwater Parking Permit changes
The old system
The old $75 permit was intended for recreational beach use by Clearwater residents.
It had remained relatively unchanged for several years while the demand for parking on the beach continued to increase.
There was a growing number of people using the recreational permit for permanent parking. (some were working at the beach and others openly admitted that they used it to park their spare vehicle on the beach)
The locations available on the old permit would fill quickly, limiting the availability for use by a growing number of residents that were trying to use the permit recreationally. (Several spaces occupied by those using the permits as a permanent parking space)

Had we opened more locations, there was still no good way to stop the overuse/ abuse occurring under the old style permit.

When looking at the price, $75 will pay for 50 hours of parking in our beach lots under the new discount program. Certainly enough for the occasional recreational use it was intended for.
The primary purpose of paid parking is to promote turnover. If spaces stay filled all day with one car, less people have opportunity to park and utilize the businesses. We believe the residents deserve a break from the higher prices at the beach but there still needs to be turnover in the public spaces to help promote good business. The new program is an effort to add more balance to those opposing demands.
What is better about the new system (for most)
The goal of the new permit was to create a more inclusive system that could be used by more residents.
The new ½ price discount through Parkmobile is available anywhere Clearwater has paid parking; not just at a few locations on the beach.

Includes downtown parking.

We're happy to offer this program to every City of Clearwater resident without limiting the number like we did with the old permit.

We capped the $75 permits at 350 users but just a few months into the new system, we've almost tripled that enrollment.

The $75 permit was up-front cost, where the new permit is free to obtain and pay as you go. Impossible to lose money.
New Permit Instructions (step by step)
Save 4 pictures to your desktop

FL License
Vehicle Registration
2 forms of proof of residency: Current mail that shows your name and address  (Utility bills, voter ID card, lease agreement, are all acceptable.

Go to https://www.tocite.net/clearwaterfl/portal   (you can also get here through Myclearwater.com/parking)
Select "purchase/view parking permit"
Scroll down to this icon and click the green "register"
Best to create an account but you can continue as guest.

If you created an account you will have to verify your email address.
If you continue as guest, skip to #6
If you created an account, after you verify your email go back to # 3 and click register again.  You will now click "sign in".

Signing in or continuing as guest will take you to where you enter your information and download the pictures you saved in Step 1.

It will look like this: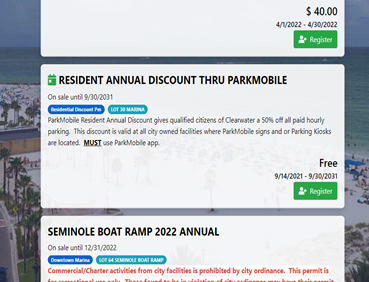 Scroll down and you will see this area where you will enter your info and upload your pictures: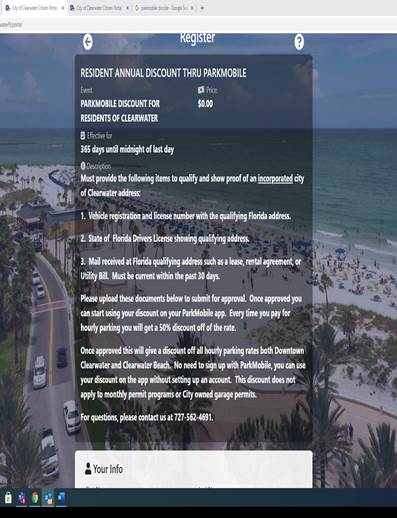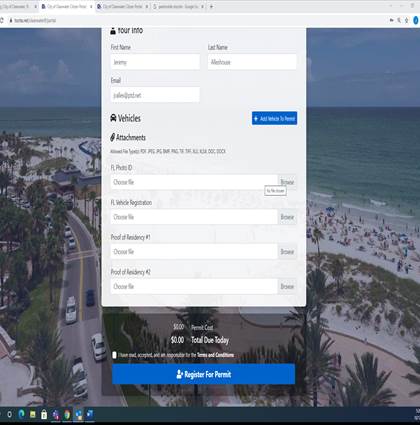 Once you have all the information entered and downloaded, click that you have read the terms and conditions and click the "register for Permit.
The information is verified the next business day. Once you are approved you can use the ParkMobile app on your cell phone and receive ½ price on parking in Clearwater.
The ParkMobile app can be found on your app store on your cell phone. Follow the instructions to input your information on the ParkMobile app and as long as the Name and License plates are the same that you entered onto the City's website, you should be charged half price the next time you park in Clearwater and pay on the app. *Remember it does take up to two business days to fully process a new application but if you don't see that discount after that, call us.